1. Research Publication During the Last One Year :
College has publish one Journal namely Ayurved Samrat Reg. No. UPHIN2012 48469 & one News Paper namely Ayurved Jagat Reg. No. UPHIN2012 48650 is published regularly.
Seminar/Webinar -
S.No.

Name of Spoke Person

Date

Topic

1

DR. Kamini Dhiman
M.D.(Ay.), Ph.D, Associate Professor Department of SRPT AIIA, New Delhi

31.05.2020

Common Gynaecological disorders and their management along with PathyaApathya

2

Prof. Dr. Shekhar Annambhotla
BAMS, M.D.(Ay.), LMT,AD,DAM,FAMAS,ERYT,CRH,CPH Professor, Vaidya, International Ayurvedic Specialist & Expert Practicing and Teaching Ayurveda

07.06.2020

Opportunities, challenges and scope for ayurvedic students in abroad

3

Dr. Prof. B. K. Dwibedi
IMS BHU

13.06.2020

Clinical Approach of Charakasamhita W.S.R to sutra sthana

4

Dr Namrata joshi
IMS BHU

21.06.2020

Role of Ayurvedic pharmaceutics in the management of Viral infections in perspective of Covid – 19

5

Dr Abhishek Upadhyay
NIA Jaipur

26.06.2020

Understanding of diagnosis and management of Dyspnoea - An Ayurvedic Approach

6

Dr. Gaurav Phull
Clinical Registrar, Shalya Tantra Department, Ch. Brahm Prakash Ayurveda CharakSansthan, New Delhi

02.09.2020

A Clinical insight to Marma Science
2. Continuous Medical Education (CME) Programmes :
One CME was done on 16th to 17th March 2019 in college premise. The details of CME are as below –
Topic of CME - CME for Ayurvedic Practicenor in UP
Spoke Persons –
| | |
| --- | --- |
| Name of Spoke Person | Topic |
|   Prof. Dr. B.R. Tripathi | Vata Rakta & PVD |
| | |
| Prof. Dr. Lakshman Singh | Anorectal Disease |
| | Kshar Sutra |
| | |
| Dr. Snehlatha Dornala | Ayurvedic Practices in Childhood Disorders   |
| | Panchkarma in Childhood Disorders   |
| | |
| Dr. Gauri Shankar Yadav | Patra Pind Potali Swedan |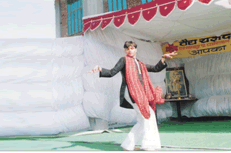 Winners of various activities with their shields.
It is the honor to this college only that 2 faculty members are elected/nominated as member in Bhartiya Chikitsa Parishad, Lucknow (U.P.) the governing body of registration & education of Ayurveda in U.P. state & 2 students has been elected as the member of C.C.I.M. the apex body of Ayurvedic colleges for controlling, managing & maintaining education.